We regret that owing to the current lockdown caused by the coronavirus all services and other activities have been cancelled until further notice. However, Holy Week, Good Friday and Easter Sunday will still happen, although we cannot commemorate and celebrate together! We hope all of you looking at this website will remember Church is not just the building but the People of God, and we can still pray, read the Bible and reflect by ourselves or with family members.
There are recorded services from St Mary's, Horsham and Holy Trinity, Horsham every Sunday during the current lockdown and they can be found on the respective church websites: 
https://www.stmaryshorsham.org.uk/ 
and
 http://www.holytrinityhorsham.co.uk/ 
St Mary's website also has Worship Resources  for you to use. 
It is a great challenge to be Church without meeting regularly but we are all keeping in touch and you can join us by emailing Vicar@stleonardshorsham.org.uk
May God go with you all until we meet again.
**********
A new Vicar for St.Mary's and Horsham Team Rector has been appointed! Find out more about Reverend Canon Lisa Barnett here
Welcome to the website of St. Leonard's Church, Horsham.
You may have a number of reasons for visiting the site, and we hope you will be able to find what you need to. However, please do not hesitate to contact us if you need further information, or why not come and see us and ask your questions in person, perhaps on a Sunday morning?
Visitors are always welcome at St. Leonard's, whether you are someone who normally goes to church, used to go, or has never been! We are an inclusive church and hope you will find a warm welcome, but also the space you need to explore your own personal journey of faith.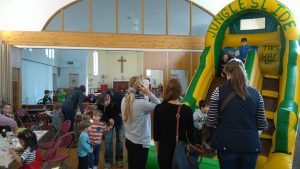 Planning a baptism, thanksgiving, wedding, or funeral service? Please use the Contact Us page for more information. You can also find more general information on the Church of England website.
If you wish to hire the church hall then please visit the Hall page for information and contact details.