The following announcement was made at St.Leonard's  on 8th September 2019
Reverend Natalie Loveless has been invited by the Bishop of Chichester to become Vicar of St. Peter and St. Paul's church in the Parish of Rustington. Today we announce that she has accepted this call, which, after prayerful discernment, she has come to recognise is God's will for her and for her family. Natalie has served in Horsham Parish for 8 and a half years – first as Curate of St. Mary's and for the last five years as Vicar of St. Leonard's. Her Collation and Induction will be on Monday 16th December at 7.30pm.
A message from Natalie:
I would like to express my sincere thanks to God and to you all for the partnership in the gospel we have shared during my time in Horsham, but also my huge sadness at leaving the Parish. It's going to be very hard to leave. However, I am really excited by the prospect of a fresh start and finding out what God is already doing in Rustington and what He might hold in store in the future! Please do pray for me and for Benedict and Maddie as we make the transition, and also for those at St. Leonard's and in the wider parish for whom this news will mean more change. God clearly has fresh and wonderful things to do in Horsham and Broadbridge Heath and I will likewise be praying for you all in the days ahead.  'May the Lord watch over our coming and going both this time and forever.'
A new course starting this week!
Starting this Wednesday 11th September at St.Leonard's. Christianity Explored. Wednesdays 7.30pm. Come for Pudding/tea&coffee and time to explore faith and life. Running for 7 weeks and you can dip in and out and ask anything you like! Come on, what's stopping you?!
More info vicar@stleonardshorsham.org.uk or just turn up.
Welcome to the website of St. Leonard's Church, Horsham.
You may have a number of reasons for visiting the site, and we hope you will be able to find what you need to. However, please do not hesitate to contact us if you need further information, or why not come and see us and ask your questions in person, perhaps on a Sunday morning?
Visitors are always welcome at St. Leonard's, whether you are someone who normally goes to church, used to go, or has never been! We are an inclusive church and hope you will find a warm welcome, but also the space you need to explore your own personal journey of faith.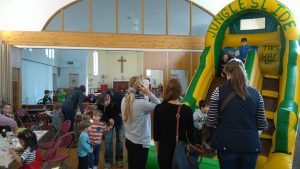 Planning a baptism, thanksgiving, wedding, or funeral service? Please use the Contact Us page for more information. You can also find more general information on the Church of England website.
If you wish to hire the church hall then please visit the Hall page for information and contact details.