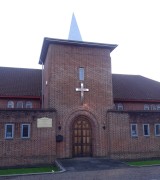 Welcome to the website of St. Leonard's Church, Horsham. You may have a number of reasons for visiting the site, and we hope you will be able to find what you need to. However, please do not hesitate to contact us if you need further information, or why not come and see us and ask your questions in person, perhaps on a Sunday morning? Up-to-date details of our Easter services can be found on our News page.
Visitors are always welcome at St. Leonard's, whether you are someone who normally goes to church, used to go, or has never been! We hope you will find a warm welcome, but also the space you need to explore your own personal journey of faith.
Planning a baptism, thanksgiving, wedding, or funeral service? Please use the Contact Us page for more information. You can also find more general information on the Church of England website.
We believe that God wants to meet with each one of us, and that through reading the bible, praying together, and gathering for Holy Communion, we can encounter Jesus and be led by the Holy Spirit in whatever is going on in our daily lives. We'd love you to be part of that with us. If you like to know more about the Christian faith why not try the rejesus.co.uk web site.
If you wish to hire the church hall then please visit the Hall page for information and contact details.