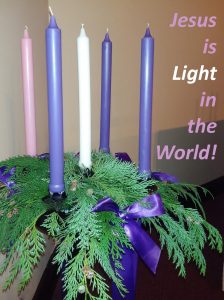 PRAYERS
Morning Prayer
Every Monday 9.00 am in church – liturgy from the Iona Abbey Worship Book
10th December – Those who suffer through natural disasters: those who live and work in Kingslea
11th December – Those who suffer in war or persecution: those who live and work in Lanark Close
12th December – The disabled: those who live and work in Lapwing Close
13th December – The sick and those who look after them: those who live and work in Laurel Walk
14th December – Prisoners and hostages: those who live and work in Leonard Way
15th December – The Emergency Services: those who live and work in Lintott Gardens
16th December – The Forces: those who live and work in Little Comptons
Please pray for members of our congregation, family and friends who are ill or recovering: Brian Clark, Ann Smith, Rosemary Clark, Jeffery Trump
Woody's baptism today.
RIP – David Potton
Give thanks for the safe arrival of Ray & Lyn's new grand-daughter, Madeleine Susanna.
NB – Some names have been removed from the prayer list. The idea is to keep people on the list for 6 weeks and then to remove them, unless there is a special request for further prayer.